Stacy's Vampire Corner
Welcome to Stacy's Vampire Corner!
The subject of Vampires has always intrigued me, from early childhood up to the present day. From the beginning, I have watched every movie and read every book that I could get my hands on that involved them.
Night Flight
Brush back the clouds from the moon's face.
Let the white lady see.
Dance on the wind with me, lady, my love.
Come frolic! Come flying with me!
Put down that book! You can read it
Come eternity!
Tonight is a night--it's a moon night my love!
Come dancing and frolic with me!
I want you beside me at nightfall,
On the wild wind of the night;
Shards of the moonlight and white lace on waves.
Come dancing; come join me in flight!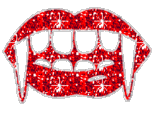 Everything Vampire!
Here on my page you will find custom desktop wallpapers, Vampire folklore and information, as well as resources and links.
I have included various pictures from my collection as well, along with jokes and other Vampiric odds and ends.
Throughout my site, most of the pictures are "clickable," so click away and check out all of the groovy hidden links!
Site created on June 20th, 2004.
Site updated March 17, 2014